blog
E-commerce
Ecommerce payment methods: what they are and how to choose the right ones
October 28, 2023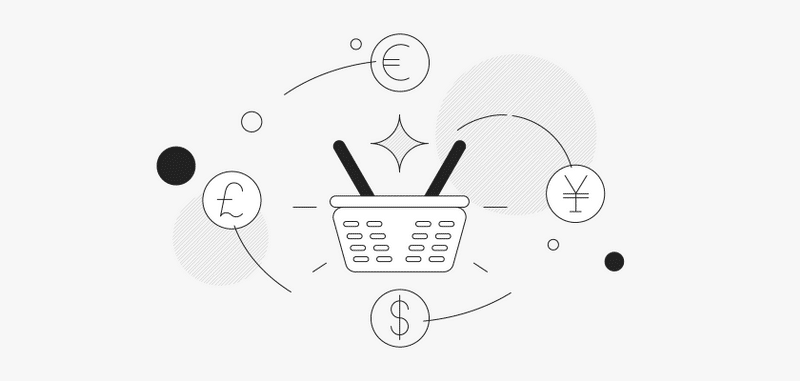 In the rapidly growing world of ecommerce, every click and conversion matters. But one aspect that's often overlooked by online store owners is payment methods. The type of payment methods you accept can either improve a customer's path to purchase or lead to abandoned carts and lost revenue. As a result, it's important you carefully consider which payment methods to accept on your store. 
There are many factors to consider when making this decision, including the type of payments available in your location, payment methods your customers prefer, and fees associated with different payments. There's also the question of how to navigate the plethora of payment types available to you, such as digital wallets, cards, and payment gateways.
In this article, we walk you through the most common questions online store owners have about e-commerce payment methods, including the most popular payment systems and how to find the best one for your site. 
Why you should accept different payment types for your online store
One thing is clear: you need to accept more than one payment method for your e-commerce store if you want to succeed online. There are many reasons for this, which we've outlined below.  
Reduce cart abandonment rates
One of the most challenging aspects of e-commerce is minimizing cart abandonment rates. Your business is dependent on visitors completing the payment process and converting into customers. If they leave your website mid-checkout then you're missing out on potential revenue. 
There are several reasons why a customer may abandon their cart mid-checkout. One of the main issues is having an inconvenient or limited choice of payment options. If this is the case, offering multiple payment methods can help reduce cart abandonment by appealing to those who may not have completed their purchase otherwise. 
Expand your customer base
One of the greatest perks of running an e-commerce platform is being able to serve an audience beyond your local market. But if you're looking to attract audiences from different markets, it's important you cater to their payment preferences. 
Depending on their demographics, such as age or geographical location, your visitors may prefer to pay for online purchases through different methods. You must ensure you offer a payment option for every type of customer, regardless of age group or location. This ensures that your store appeals to a broad range of audiences from different markets.
Foster trust in your brand
In the world of e-commerce, where customers cannot see you nor the products they're purchasing, trust is paramount. As a result, you need to ensure your online store makes customers feel secure and confident when making online transactions. One of the best ways to do this is by offering a range of trusted and reliable payment solutions that can reinforce your brand's credibility and trustworthiness in the eyes of your customers. 
The top online payment methods for ecommerce
The first step to choosing the right payment methods for your store is to know which are the most preferred by consumers. Below are the most popular payment services that every e-commerce store should accept. 
Digital wallets
Almost half of global e-commerce expenditure is paid using digital wallets, making it one of the most essential payment methods for your business. If you don't accept payments from digital wallets then you're missing out on the opportunity to attract a larger customer base and position your brand as a modern business. 
Digital wallets allow users to store multiple credit or debit cards within a single secure app. This means they don't have to manually enter their payment information each time they make a purchase and can make payments with the click of a button. The most popular digital wallet services are Apple Pay and Google Pay. 
It's expected that more than half of all e-commerce transactions will use digital wallets by 2026. During that same period, credit card use is expected to decrease by 23%. It goes without saying that accepting digital wallets is essential for all ecommerce businesses, and will be even more so in the future. 
Credit card
Once the most common payment methods for e-commerce, credit cards are now a close second behind digital wallets. There are many reasons why credit cards are so popular amongst online shoppers.
Firstly, they're easy to use. All a customer needs to do to make a payment is enter their card information. Sometimes these payment details are already saved in the browser, making the process even easier. Secondly, credit cards are a one of the most secure payment methods for online transactions. The card verification value (CVV) makes fraud easily detected, giving shoppers ease of mind when making purchases online. 
Credit cards are also appealing to some customers because they can offer perks, such as discounts or rewards programs. For others, making a payment using credit cards is a favourable option because it allows them to improve their credit score. There are also shoppers who prefer to use payment methods like credit cards because it means they can pay for purchases at a later date.
Debit cards
Debit cards are phasing out of popularity but are still commonly used to make online purchases, especially amongst older demographics. They are just as easy to use as credit cards, and the only key difference is that they're linked to savings in a bank account. This means that funds are withdrawn immediately from a customer's account, unlike credit cards, where payments can be made at the end of a billing cycle. 
Buy now pay later (BNPL)
Buy now pay later (BNPL) systems are fast becoming one of the most popular e-commerce payment methods. This form of digital payment allows customers to pay for purchases over a series of instalments rather than all at once. They're essentially a type of short-term loan which usually charges no interest for customers. 
BNPL services are popular amongst people who want to pay for expensive items over a longer period of time instead of splashing out all at once. Shoppers only need to make a small initial payment at the time of purchase and the remaining balance is paid off in small increments over a set period of time. Even though customers may take several weeks to pay off their purchase, merchants receive the full amount of a sale immediately. 
Using a BNPL for your e-commerce website can benefit both your audience and your business. For shoppers, they make certain purchases more affordable and convenient. For e-commerce businesses, they've been shown to increase average order value (AOV) by around 45%. 
BNPL systems are growing increasingly popular, especially amongst younger audiences. Because of this, BNPL is one of the most important payment methods to offer if you want to appeal to younger audiences and convert customers making impulse purchases on pricey items. 
Cryptocurrency
While cryptocurrency is a less popular payment method in e-commerce compared to other payment types, it is still used amongst certain audiences and has a lot of potential for the future. For example, cryptocurrency's use of distributed ledger technology (DBT) to maintain a public record of transactions makes it arguably more secure than other payment methods. That said, cryptocurrency is unlikely to be adopted into the mainstream until there's more legislation around its use. When that happens, we may see increased demand for cryptocurrency as a payment option for e-commerce.  
E-commerce payment gateways
Payment gateways work as a type of backend service for e-commerce payment processing. In essence, they act as an interface that connects payment processors, bank providers, and merchants, while keeping customers informed about the status of their purchase. 
In just a few seconds, payment gateways perform numerous actions to facilitate transactions, including capturing and transmitting card information, encrypting data, checking for fraud and sufficient funds, sharing payment acceptance or decline with customers, and sending information to transfer funds from the customer's bank to the merchant's account. 
Payment gateways allow e-commerce stores to accept many payment types, including credit cards, digital wallets, BNPL systems, cryptocurrency, and more. Because of their flexibility, speed, and ease of use, payment gateways have become indispensable in the e-commerce industry and are preferred by many store owners. With so many different providers out there, it's important that you compare payment gateway services to find one that offers various payment options and the best transaction fees. 
How to choose the best online payment method for your store
With so many payment methods available on the market, it can be difficult to decide which are the best options for your store. Use the following steps as a guide to choosing the right payment type for your business and audience. 
Step 1: Understand your customer preferences
The first step is to clearly define your target audience and understand their preferences. Depending on their age, geographical location, and demographics, different users will trust and favour different payment methods over others.
For example, if your audience are Baby Boomers you'll need to offer different payment methods for your e-commerce store than if your audience was made up entirely of Gen Z shoppers. The preferred payment option for most Baby Boomers is a credit or debit card, while Gen Z audiences lean more towards paying with digital wallets and using BNPL services.  
Once you've clearly defined your audience and their preferences, you can choose to offer e-commerce payment methods that appeal to their demographic. If you fail to offer your target audience the main types of payment that they're used to and prefer, they may abandon cart or leave your website mid-checkout, costing you a sale. Over time, these lost sales add up and your e-commerce business can suffer. 
In most cases, it's best to offer multiple online payment methods on your website. This ensures that the majority of shoppers will find alternative payment options that appeal to them, regardless of age or geographical location. You want to do this without overcomplicating the checkout process. The key is to keep payment effortless and uncomplicated for shoppers. 
Step 2: Compare transaction fees 
Once you've defined which payment methods to accept on your e-commerce site, the next step is to compare transaction fees between different payment providers and payment gateways. This will illuminate how much it would cost your business to offer a particular payment method. 
Different payment gateways and services will have different fees associated with each payment they process, i.e. transaction fees or processing fees. Because of this, it's essential that you compare the fees between providers to determine how each service may affect your bottom line. Depending on your business and revenue, certain payment methods may not be economically viable to add to your site. 
As an example, BNPL services are extremely popular amongst customers and have been shown to increase conversions and average order value (AOV). However, BNPL providers typically charge high merchant fees in order to make their service profitable. If you're looking to add BNPL to your site, then you should check whether the payment method's ability to attract more customers and increase order value is worth potentially paying higher fees. 
Step 3: Choose a payment gateway that can process payments smoothly
Not all payment gateways offer the same range of features. If you choose to use a payment gateway for your business it's best to look for one that benefits both you and your customers. Here's what to look for when choosing payment gateway providers:
Low transaction fees:

Some payment gateways charge higher processing fees than others. To increase your revenue, look for a provider with lower transaction fees. 

Vast range of payment methods:

The best online payment gateways offer numerous payment methods and allow you to easily enable the ones you want and disable those you don't. 

Easy to implement:

Adding a payment gateway to your website can be difficult if you're not a developer, so look for one that's easy to implement with end-to-end documentation and technical support when you need it. 

Customizable:

A good payment gateway will offer customization to fit your brand's style and aesthetic, so your checkout page doesn't detract from the overall look and feel of your website. 

Good user experience:

Reduced cart abandonment rates is paramount as an e-commerce business owner, so opt for a payment gateway that offers customers an easy and seamless path to complete their purchase. 
The payment gateway your store deserves
Boost your conversions and increase revenue with 20+ payment methods and more coming. ZEN.COM payment gateway is a modern and responsive payment portal that offers the lowest fees on the market. Our portal is designed with your business in mind, fully customizable to fit your store's aesthetic and adapted for any device to reduce cart abandonment. Best of all, it's easy to implement with plugins for the most popular ecommerce platforms. Speak to our dedicated experts and discover why ZEN.COM payment gateway is the best on the market.